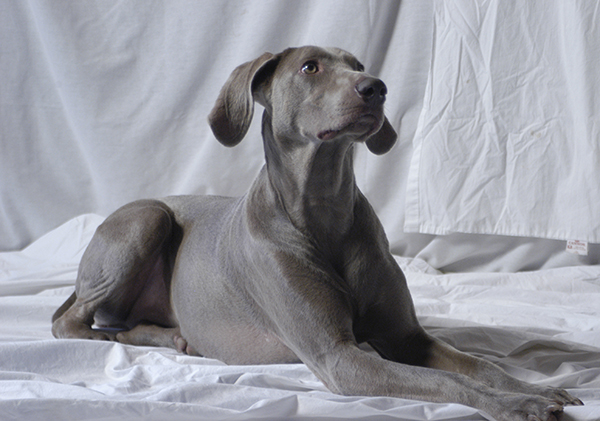 In Memory of Arabella Camille

Arabella was a four-month-old pup when we first met. But unlike most silky Weimy pups with mischievous blue eyes, she was nearly hairless and scabby with anxious, frantic blue eyes.

She had inherited juvenile mange from her mother and was swarming with tiny mites that caused her hair to fall out and made her scratch holes wherever she could reach.
My daughter had bought Arabella for me as a surprise—and she was indeed a surprise. When I picked her up at my daughter's house, I met a skinny, hairless, bloody, scabby, whining little girl. When I attempted to take her for a walk on a leash, she cried pitifully, lunged, and tugged backward, all the while scratching.
After a chaotic few hours, when we were ready to drive home, I placed her on a folded towel on the passenger seat of my car. She lay quietly without scratching, gazed around the car, and then turned to look at me. At that moment our eyes locked, and something unspoken passed between us—I felt that she had placed her trust in me and that she knew everything would be alright. She wagged her tail, dropped her head, closed her eyes, and slept quietly on the trip home, now our home.
I have thought back to that moment many times throughout the past 14 years. Arabella recovered from her mange and grew to be a beautiful, intelligent, independent, sometimes crazy, but always devoted companion. She was at my side every day through two moves, through the deaths of a dear friend and my mother, through the adoptions of two Weim friends and the fostering of countless others. She romped with my daughters and her canine cousins and welcomed my two grandchildren into the world.
At some point each day, our eyes would meet and we would hold the look, and I would say, "Hello, old friend." Her tail would wag and her eyes would smile, and I knew she was telling me that she loved me.
On July 23, 2016 my old friend passed from this beautiful life. I miss her every day. I hope that she is happy and comfortable and that we will be together again. Until then, I hold dear the memory of her smiling eyes that said, "I love you."