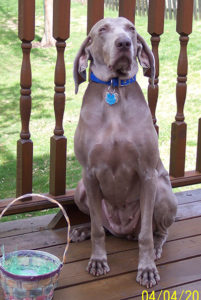 Jessie came to us on August 27, 2009. She was about 2 years old. She was timid and willing to please and please she did! She was the sweetest baby girl we have ever had.She would knock you down with her kisses. She loved her family and our kids were HER kids. She loved them so

Laying in the sun in her backyard, watching over her garden, going for walks and car rides were her favorite pass times.
In the 7 years she was with us, she went on every family vacation, and gave more love than one heart could hold to each of us in her family. She was truly the best. Rest well and we will see you again when you are waiting for us on the other side.
We love you, Jessie Bug!
The Eddingtons