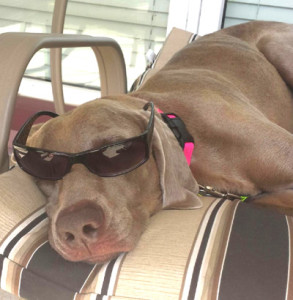 Allie (Ali) is a great dog. Within two days of picking her up for fostering she became a part of the family. Allie loves to spend time on her very own chair, loves long walks in the neighborhood. She especially likes to go for rides on the pontoon boat.

She has adapted well to living in a lake community. She watches the ducks swimming around but doesn't chase after them. Allie will walk around in the lake and occasionally lay down in the lake. She hasn't gone swimming yet.
She is definitely a "velcro" dog. She loves spending time with our 10 year old daughter. She a very social dog and gets compliments from the neighbors about how quiet and well behaved she is. She has made a dog friend across the street. She is a very gentle dog and loves children of all ages. While on a walk on the second day she was here she met another Weimaraner and it was neat to watch her and the other Weim just look at each other like the recognized they were the same breed. Both Weims didn't pay any attention to the German Shepherd that was walking with the other Weim. The lady with the other Weim said she adopted it from Wonder Weims 5yrs ago.
Everyday a little more of her personality comes out. She does have some seperation anxiety but she has been improving. What we thought was just going to be fostering a dog in need for awhile turned out to be a foster failure for us. Allie has found a place in our hearts and a forever home in our house.
Chris and Brooke Perchal