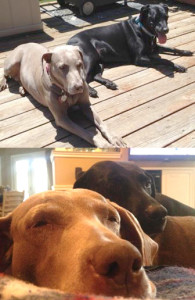 Our two girls, Maggie and Chelsea, came to us from Wonder Weims Rescue this year. Maggie, the mom, is a beautiful 7 year old Weimaraner, and her daughter Chelsea a 5 year old wonderful Weim/Black Lab mix.
We looked for months to find a matched pair of females for our home. We've had dogs in our home since we were married 34 years ago.We had never known Weims so we did a lot of research on their temperament and characteristics. They love to run and also love to be lap dogs. The saying is true, if you have a Weim, you'll never be alone. They follow us everywhere and are constant companions, loving to be around people and loving attention and play. They are very talkative, with several vocalizations that help you understand what they want, Maggie is very touch oriented, she uses her hands to reach out and touch you or wave in the air when she is excited about something you've said.
Maggie and Chelsea both are very loving and gentle around us and our guests, but I like that they initially bark to warn folks at the door that there are dogs inside. They love to play in the yard and are hunters by nature. Ours especially like to stalk and chase birds, squirrels, and rabbits. We have seen them climb the fence when they are focused on chasing so it is a good idea to chip them and get name tags for their collars.
Finally, we enjoy them as an integral part of the family, they participate in whatever projects you are doing, they even come in to nap in bed with us in the morning. Can't imagine life without them. They are genuinely interested in you and watch what you are doing, concentrating on anything we say so they can anticipate what you will do next and get involved. Our yard is very dark at night and we had trouble following what they were doing when they went out. We found Glow Doggie lighted collars are easy to slip on before they go out and give us the ability to watch their activity late at night without having to call out for them. We also found Thundershirts to help calm their nerves when thunderstorms or fireworks startled them this summer.
I can't say enough about the care in the adoption process shown by NE Wonder Weims. They followed up with my references before our first visit and meeting with Maggie and Chelsea. It was apparent the dogs were well cared for by the rescue and the foster family, with whom we've stayed connected to share pictures and funny stories. We look forward to many years together and seeing how the dogs continue to grow and thrive. They are smart, loving, and very cute – just what we were hoping for.
Bob and Lola