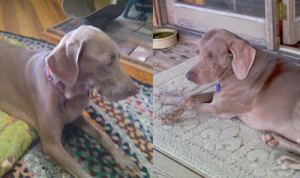 I am a double adopter – once by plan and once by sneak attack. Miley I had just moved into a new home on five acres, so I planned to adopt a second Weim to keep my Arabella company. After my first choice was scuttled (because the foster mom had fallen so deeply in love with her foster that she could not let her go), I decided on Miley, a two-year-old female.

Miley looked cute in her photo, but when her foster parents brought her to my house, I saw a horribly emaciated and dwarfed little girl Weim. She had recently been rescued from a Missouri puppy mill where she had obviously been used as breeding stock from early in her life. She had bonded with her foster folks, but feared everything else. She growled fearfully at Arabella and me and tried to get out of the house. I had hoped for a well-adjusted, sweet-natured new companion, but my heart went out to Miley. I adopted her, and the first night she spent in her new home, I had to keep her on leash to keep her from running and hiding. When we went to bed, she jumped into bed with us, looked around, then sat and howled mournfully for about 10 minutes. After this, she curled up and fell asleep and hasn't looked back.
Miley has learned to be a dog – a beautiful, gentle, devoted little friend. She has learned to play and hunt outdoors and to interact with other dogs and people. She has filled out, but remains small, with big ears, eyes, and feet – like a large puppy. We have been together since 2007, and I hope we will have many more years together.
Atticus snuck into my heart and stole it. He was my first foster dog, a two-year-old southern gentleman from Mobile, Alabama. An owner surrender, he was a puzzle to me, as it was obvious he had been well trained. He was a big-chested, long-legged silver Weim, obedient, gentle, and passive with Arabella and Miley.
Atticus had been diagnosed with a bad case of heartworms, like many southern dogs. Part of his passivity was likely due to the lethargic manifestations of the heartworms. I was keen to get this big boy back on the road to health. Wonder Weims and I contacted multiple vets to treat Atticus for the heartworms, but for some reason, the heartworm drugs were unavailable. Through my daughter, I finally found a vet in northern Illinois who had the drugs, and I booked Atticus with him for the following week. We dropped him off on the way (well, a little out-of-the-way) to a northern vacation. When I said goodbye to him in the vet's office, Atty's eyes dropped with disappointment and resignation. One more human, leaving him behind. At that moment, I vowed to return and take this boy home for good.
Atticus has been cured of heartworms, has regained his vigor, and come into his own. I have never regretted my decision to adopt this big, sweet boy. I wasn't ready for three dogs, but we are now a beautiful and busy family.