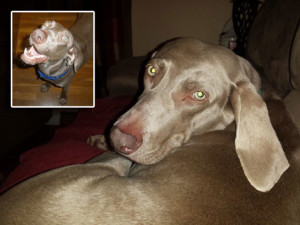 On New Year's Day, 2011, during a stormy, tornadic afternoon, we took a trip to a small town just outside of St. Louis to visit with a man who was fostering Mysti, a 2 year old Weimaraner that came in to the rescue as a stray. Little did we know that we would be meeting the best dog we could have ever hoped for!

Angie, the rescue coordinator warned us ahead of time that Mysti's foster dad, Steven, was really attached to her. When we pulled into his driveway, Mysti was waiting for us in the window. We took one step in to his house, and Mysti jumped up and put her front paws on my husband's chest, giving him the biggest weimy smile! Then, she came over to me, put her front paws on my chest, and licked my nose.
We knew immediately that we would be taking her home. She chose us. We didn't even need to go and see the second weimy girl that we were supposed to be visiting that day. We knew we'd found the newest member of our family. Steven, Mysti's foster dad, was sad to see her go, but he said he could tell that Mysti had chosen us, and that he would have to pack up all her things.
We keep in contact with Steven and send him updates and pictures of Mysti. Since that day, Mysti, nicknamed Mysti Moo by the first groomer to give her a spa treatment, has become the leader of the Farrar clan. She has a furry sister, Lola (American Eskimo), and a furry brother, Boomer (Chow Chow) that she pals around with all day. They say that Weimaraners are high-energy, but we found the biggest couch potato of them all! Mysti needs to be in someone's lap at all times. That is where she is most comfortable. She hates walks, but she is happy to run and play in the back yard with her brother and sister. Her brother and sister were puppies when we got them, so she has gotten to play the mother role a couple times, and now she is content to hang out and soak up the sun.
Thank you, Wonder Weims Rescue, for finding and caring for our Mysti before we found her. We can't imagine our lives without her. ~Brodie and Erin Farrar Atwood, IL