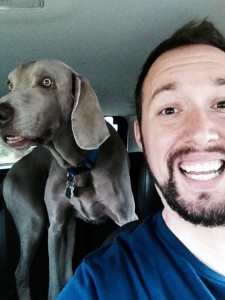 I was introduced to Wonder Weims just over a year ago. A friend of mine had a Weim show up at their house, Hank, and he found his way to the rescue.

Hank ended up having a rare form of cancer with a bleak prognosis. We decided to hospice foster Hank as he seemed to still have quite a bit of life still in him. He was an amazing dog. It was really hard to believe someone was able to just dump him. He was with me just over six months before he passed, and it was one of the hardest things I have gone through. We had bonded immensely in a short time.
After Hanks passing I knew I wanted to help more dogs. I started helping out with meet and greets and any other fundraiser I could. It was a great not only to help, but to talk with folks about the breed.
I then adopted Henry. He had came into the rescue just a week after Hank passed. I took it almost as a sign. He was surrendered up in Nebraska, so we made arrangements and I was able to go to Kansas City and pick up my new fellow. Henry is a great dog, and again, I'm baffled on why someone would surrender him.
Most recently a foster has came to stay with us as well, Drake. He is another owner surrender. He is a little older at 9, with a couple health issues, but still has a lot of love to give.
Along with the Weims we have a couple other residents, Bentlee and Bailee. They have been open and understanding with our additional family members throughout the years so I can't leave them out.