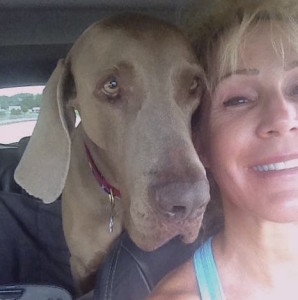 'm the Director and Founder of Wonder Weims Rescue. I've been involved in rescue for over 16 years! That's hard to believe!

Doing rescue work is incredibly rewarding, yet very demanding. As all volunteers know, rescue has it's ups and downs. Wonder Weims Rescue has an extraordinary group of volunteers that make this rescue successful. Without them we wouldn't be where we are today.
Wonder Weims rescues and places, an average of 150-200 dogs in any given year. Not only do we rescue Weimaraners but we sometimes help Dobermans, Great Danes and mixed breeds. We also help other rescue organizations with food and other resources. We have grown beyond belief over the years- our Facebook fan base is approaching 10,000!
I rescued my first Weimaraner, Morgan, 16 years ago. She has since passed away, but from her I carry the spirit of rescue. I currently have 2 Weimaraners, Jade and Miles (aka Moose!). Though rescue can be extremely challenging I wouldn't give it up for the world.
It is up to each and every one of us to step up and make a difference…"Saving one animal won't change the world, but it will change the world for that one animal."